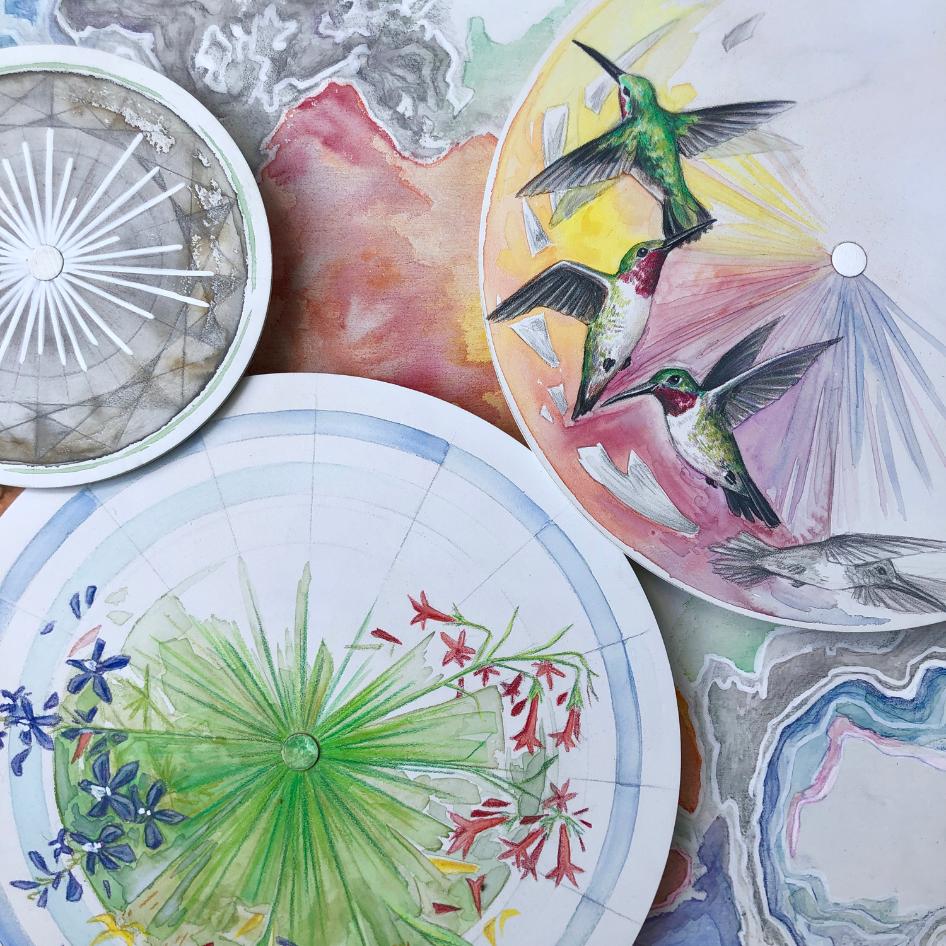 Cyclical Forces: Exploring interconnected
relationships of plants and pollinators
showing October 22 - November 7 at Edge Gallery
"After working with environmental themes in my artwork for the past couple years, I set out to collaborate with biologists first-hand this summer in order to create more science-informed artwork. I spent two weeks observing and assisting field research at the Rocky Mountain Biological Laboratory near Crested Butte, Colorado. This included learning different methodologies for collecting and observing bumblebees and other insects, as well as assisting in studies that tracked pollinators at specific sites along trails and alpine meadows.
This new body of artwork aims to consider what we know about plant-pollinator relationships and what we are still searching to understand." – Faith Williams Dyrsten
Sketchbook illustrations created while in the field at RMBL. Ballpoint pen and colored pencil on sketchbook paper.
Interactive artworks showing plant-pollinator relationships. Circles move on gear systems with handles.
Find "Mini Artist Talk" videos for each pieceon Instagram: @faithwilliamsart
Special gratitude to:
Endangered Species Coalition for political advocacy on behalf of pollinators and for providing community resources to create urban pollinator habitats. Thank you to Jeanie Dodds, Creative Engagement Director, for connecting me with Dr. David Inouye.
Rocky Mountain Biological Laboratory and their researchers for allowing me to shadow biologists in-the-field, including teams led by: Dr. David Inouye, Dr. Becky Irwin, Dr. Paul CaraDonna, Dr. Jane Ogilvie, Dr. Brian Inouye, and Dr. Dan Blumstein.
Creature Conserve for generously funding my travel expenses for the summer field project and encouraging artists to work more directly with scientists.
20% of all artwork sales will go toward non-profit organizations that support environmental advocacy and pollinator habitats. See Price List for available works and list of specific plant and insect species depicted in each piece.
Copyright Faith Williams Art